Breath: Crimson Darkness 14
Original Idea by: Ultimatemetaknight
Written by: Rockamorow
---
"Well, I'll be going back to my bed, guys, I'm about to pass out here..."
"Have a good night!" they both shouted at the same time, and then looked at themselves and giggled...
I chuckled and made my way upstairs, trying to not muzzleplant on the way...
There, it didn't take that long to step in my world of dreams...
---
(Skyblack's perspective)
"So...I've been having frequent nightmares and...is there a spell that can cure them?"
"I...do think so..."
She ran off to the bookshelves, I waited there, trying to not stare at her flank...urgh, control yourself Sky...
"HERE!!" She darted back to the table...
"Will it hurt?"
"A little..."
"Good..."
She looked at me with a frowned face...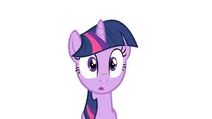 "I mean...uh...forget it..."
"Well, anyways, brace yourself..."
She concentrated all my powers on me, suddently, I felt like my head was glowing...and then a large headache came, followed by an explosion of glowing colors...
I was with my eyes closed and shivering...
"Am I dead yet?"
She laughed...
"Haha, no silly, you're alive!"
I opened my right eye.
"I am?"
She just laughed more...
"Heh..."
"So...you believe in the Slender Mane?"
"Y-Yes, I do, how did you know?"
"Simple, I was able to see all of your nightmares, but don't worry, they're gone!"
I cleaned the sweat from my forehead with my hoof...
"Phew..."
"But I was able to see some of your dreams too..."
I remembered one of the dreams I had a few weeks ago...going to bed with Twilight...brain, why don't you go fu-
Before I could finish what I was thinking, Twilight jumped on me...
First I shielded myself, thinking she would kill me for that dream, but, turns out that didn't happen...
Instead...she kissed me...
"Ahem..."
I heard a sound from the hallway...it was Crimson...
"C-Crimson?! I-I, I mean, WE can explain!"
"You don't need to...can I join?"
Her face went from to a shocked one, to a slow smile one...
"If I can't get some sleep, that means I can't get some fun?"
"Of course you can!"
Crimson slowly trotted towards us...
Have you ever heard of Double Penetration?
On the next morning...
Edit
I woke up with Twilight still sleeping on top of me, and Crimson right behind her, I slowly pushed her out of me and I trotted silently to the door, trying to not wake them up...
I got out of the house and headed downtown...
There, I walked around, observing the ponies around me, fillies and foals, looking for possible criminals, but something caught my mind...and made my jaw drop.
---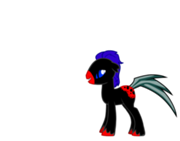 Dead: 10.000 bits for each head bringed.
Edit
Alive: 20.000 bits for each pony bringed.
Edit
Sincerely, The Hanged Dark Pony Mafia
---
I looked left and right many times, panicking, before darting back to Twilight's house...
Community content is available under
CC-BY-SA
unless otherwise noted.