Breath: Crimson Darkness 4
Original idea by: Ultimatemetaknight
Written by: Rockamorow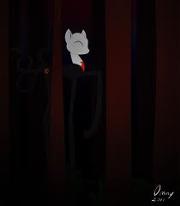 Living Room
Edit
(Crimson's Perspective)
I woke up with the sofa rumbling, the first thing I see when I open my eyes, is Fluttershy lying in front of the sofa, right on my front...
"Flu-Fluttershy?"
"Oh Celestia! Did I woke you up?!" she jumped...
"Y-yes...but it doesn't matter...what are you doing here?"
"I couldn't sleep...Sky was acting strange...he was grunting and saying gibberish...I'm worried about him..."
"Nightmares, probaly...he is having them every night?"
"So far, yes...."
"Does he have any problems? Like, mental problems?"
"...Yes..."
"That's probaly the reason, maybe you should get him a psychiatrist or something..."
"Why? So he can blow his head and rape his dead body? Heck no..."
I chuckled...
"So...I guess you want to sleep here..."
"If you don't mind..."
How the hell could I say "no"?
"Of course I don't..."
She smiled...a smile that I'll never forget...
After that, she lied in front of the sofa again...
"Uhh...isn't the floor cold?"
"Yes, but...I can deal with it..."
"A-are you sure?"
"Don't worry about it..."
I looked at her dissapointed, before closing my eyes...however, when I was almost sleeping...
"AAAAAAAAHH!!!"
I heard a scream upstairs, followed by Skyblack running them down, stopping and staring backwards...
"Sky!"
Fluttershy ran to him and hugged him, I jumped out of the sofa and trotted to his direction, he looked scared and couldn't stop staring upstairs...
I noticed Fluttershy was already in tears...
"Oh Celestia, Sky! What happened?! Are you okay?!"
He was so shocked that he wasn't able to answer, instead, he said...
"I...saw....him..."
"Who?! WHO?!"
"S-S-Slender Mane!"
"Slender mane?! What's that?!" Fluttershy asked...
"Slender Mane is a urban myth, he is know for kidnapping fillies and foals and inpaling them on a tree, but he also attacks grown ponies..." I answered...
"He...attacked me...he attacked me...attacked...please...DON'T LET HIM GET ME!!"
He freaked out and finally hugged Fluttershy back, could he be hallucinating? I decided to check...
"Wait here, I'll go check..."
"NO!!" He sticked a hoof to my front...
"Look, this is bullcrap, Slender Mane isn't real, you just had another a nightmare..."
"Impossible, I saw him, next to my bed, staring at me..."
I looked at him...
"Look, nightmare or not, you probaly ain't going to sleep any time soon...you wanna do something? Distract yourself?"
"Yeah...yeah...how about...Apple Cider Inn?"
"Good idea..."
He stopped hugging Fluttershy...
"T-Take care..."
"C'mon, let's go..."
We trotted out of the house and headed to the Inn...
Community content is available under
CC-BY-SA
unless otherwise noted.