(Eeyup, a Breath spin-off...this one is short and random, what if...Skyblack was a dentist? Well, sort of... 100% inspired on this video: http://www.youtube.com/watch?v=yxU9kRPiE38)
Breath: Dentist Skyblack
Written by: Rockamorow
---
"Hello, Mr. Rain! Let's see how  your teeth are today..."
He was struggling to get out, kicking, shaking, everything to escape the infamous dentist chair...
"Well, first, we will need to eliminate this resistance..."
I grabbed two scalpels and stabbed them in his right front hoof, then in his the left front hoof...
He screamed on each stab...
"Now, open your mouth, please."
He shook his head in a negative way, I punched him...
He opened his mouth to scream in pain, I putted my hoof in the middle before he closed it...
"Celestia's breath! These teeth are horrible! CLEAN TIME!"
I grabbed the dental explorer and jabbed it right over his left front tooth, he screamed, I pulled it down until the teeth finally came out...
"Now the other one..."
I did the same to the right front tooth, he was already crying and begging to stop...
"We're not done yet, have patience..."
I grabbed the periodontal probe...and missed the mouth, hitting him in the eye...that scream...I will never forget it...
"Oh shoot! I'll fix this..."
I moved the stabbed probe around his face quickly, blood splattering on me and him, when I stopped...he was barely recognizable...
"Now, let's just get the blood out of your mouth..."
I inserted the tool that sprayed water in his mouth...or what was left of it...
I could hear him drowning, with the infamous dental drill, I made a hole in his throat, water soon started to come out, along with his blood...
I couldn't hear him anymore, I presumed that he was dead...
"And we're done! Come by on the next week, okay? And don't forget to clean these teeth very well..."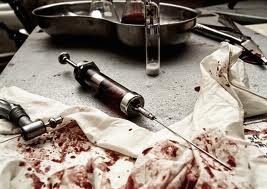 Community content is available under
CC-BY-SA
unless otherwise noted.