Welcome to the MyLittlePonyPasta-Wiki!

This is a wiki dedicated to those who like to write Creepypastas or Grimdark Fics about MyLittlePony. If you have an MLP-Pasta you want to get out there, then this is the place to post them. For obvious reasons, we urge you to read the Site Rules and Category Listing before you post, to help keep everything organized. If you need help, you can ask users or adminstrators.
The Wiki
This wiki is a special wiki for ponypastas, so please load normal creepypastas up in the Creepypasta-Wiki.
MLP-Pastas for categories
News
Friday, 05. February, 11:14: New layout for the main page, including the new categories!
Thursday, 01. October, 23:33: Good News for all Breath-Fans - the German translation goes on, and there's ever a new part of the series coming! - Breath - Red Unicorn River, and maybe it will be also translated in English!
Image of the month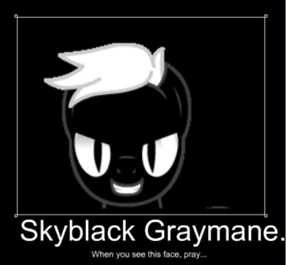 Pasta of the month
coming soon!
Other PonyPasta-Wikis
Newest PonyPastas
Latest changes
Newest images
Community content is available under
CC-BY-SA
unless otherwise noted.